By Baptist Message staff
BATON ROUGE, La. (LBM) – The Women's New Life Center in Baton Rouge was vandalized, and an East Baton Rouge judge issued a temporary halt to the state's abortion ban, July 12.
CLINIC ATTACK
Woman's New Life Clinic (WNLC) is a professional medical and mental health clinic with locations in New Orleans and Baton Rouge providing free, nurturing care to women in unplanned pregnancies as well as additional low-cost women's health services, such as STI testing and treatment, well-woman care, urgent gynecologic care, and more.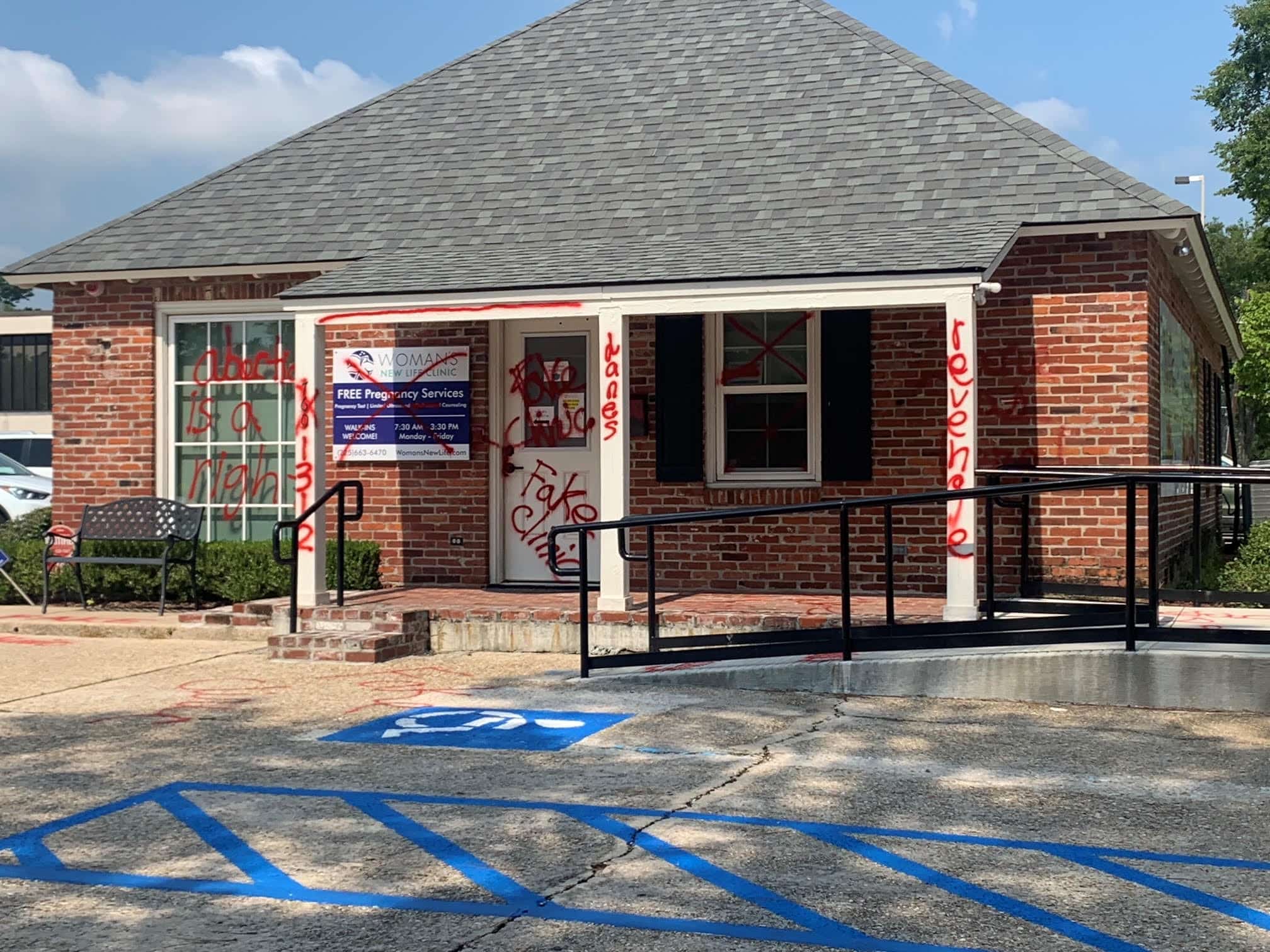 According to a press release from Louisiana Right to Life, the clinic was vandalized "allegedly by Jane's Revenge, a pro-abortion group that targets pregnancy centers across the country." The vandalism consisted of spray-painting windows and signs in red with the number "1312," the phrase "ACAB" (an acronym for "All Cops Are B—tards"), "fake clinic," "not safe," and "abortion is a right."
The Baton Rouge Morning Advocate reported, July 12, that Baton Rouge police officers were dispatched to the Women's New Life Center to investigate reports of the vandalism just before 6:30 a.m. According to Baton Rouge police spokesman Lt. Don Coppola no arrests have been made in the incident.
"While we are saddened by the attack on our Baton Rouge clinic, we are most devastated that the damage will hurt our ability to serve women," Allison Millet, CEO of Woman's New Life Clinic said in the release. "We have already seen this morning how these threatening actions have impacted patient appointments. Women visiting our clinic are looking for assistance in their moment of need. We call for peace and respect so we can focus on serving the needs of women in southeast Louisiana."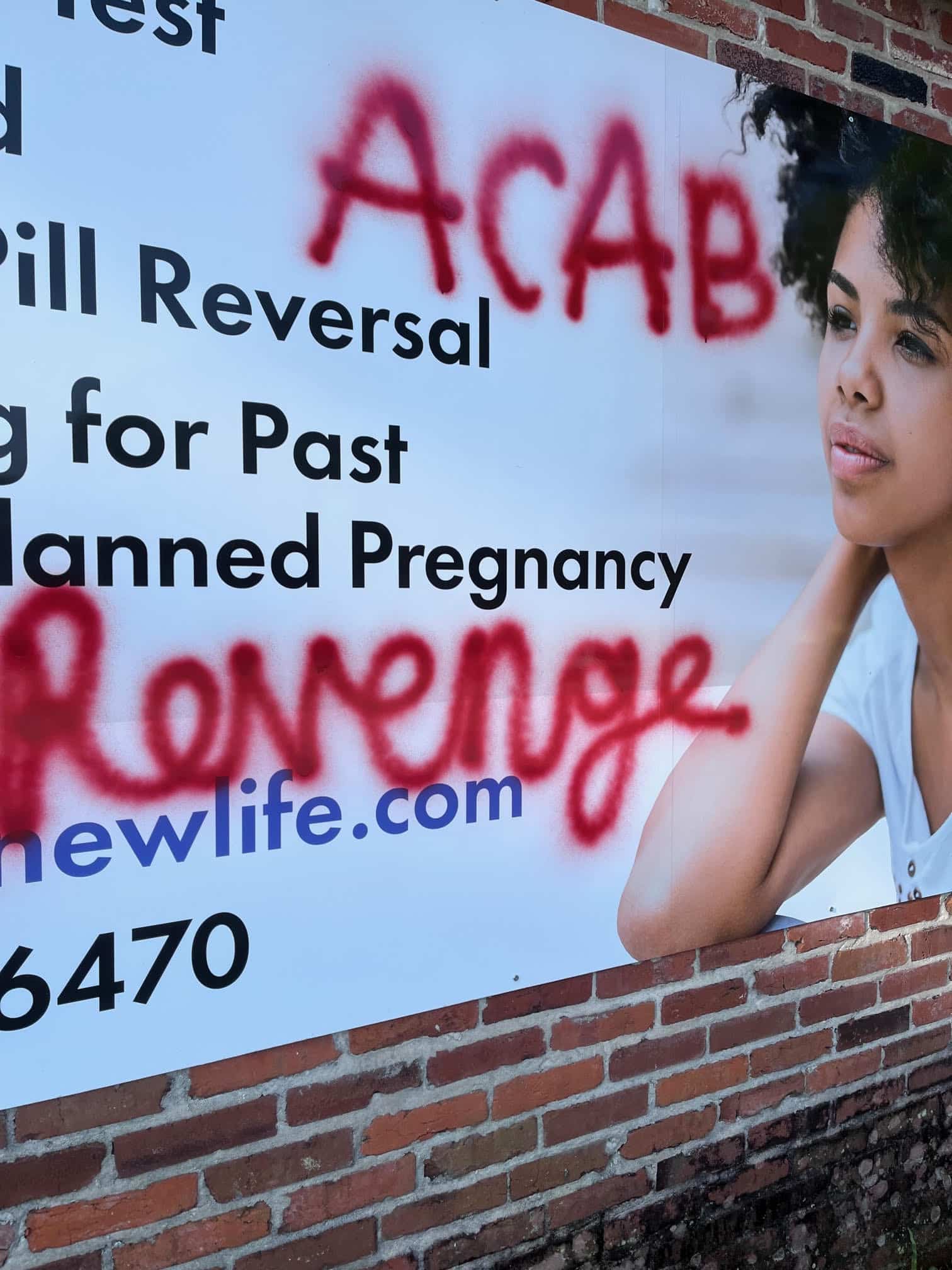 Louisiana Right to Life Executive Director Benjamin Clapper said, "It is evident through this attack, and others like it, that pro-abortion groups lack genuine care for women in crisis.
"Their answer is always more abortion at all costs", he continued. "By perpetuating violence, they directly violate the women they claim to help by harming the ability of clinics like Woman's New Life Clinic from helping patients with essential support for their family. Woman's New Life Clinic serves women with life-affirming solutions rather than victimizing them further through the violence of abortion.
"It is a disgrace that any group, regardless of their position on abortion, would harm women with their destructive behavior," Clapper added. "We call on local law, state, and federal law enforcement to investigate this matter and hold the perpetrators accountable in order to prevent further violence."
The vandalism is the first to take place at a Louisiana medical clinic since the Supreme Court's June 24 decision to return abortion rights decisions to the states.
ON AGAIN, OFF AGAIN
Louisiana's "trigger law imposing an immediate ban on abortions" has now been blocked twice in the less than three weeks since the U.S. Supreme Court overturned Roe v. Wade.
A lawsuit filed, June 24, by Hope Medical Group for Women, a Shreveport-based abortion clinic, and Medical Students for Choice, a pro-abortion group with a Tulane University chapter in New Orleans, garnered a temporary restraining order, June 27, from Orleans Parish Judge Robin Giarrusso, halting the state's abortion ban which had been in effect for a weekend. However, her parish colleague, Judge Ethel Simms Julien ruled, July 8, that the New Orleans-based court did not have jurisdiction over the case and transferred the matter to Baton Rouge, dissolving the previous restraining order.
The pro-abortion groups refiled their lawsuit in East Baton Rouge Parish, July 12, and that afternoon 19th Judicial District Court Judge Don Johnson issued another temporary restraining order, setting aside the abortion ban which had been in effect during the four-day interim, and scheduled a hearing for July 18.
Louisiana Attorney General Jeff Landry, who has been vigorously defending the state's abortion ban, immediately took to Twitter, July 12, saying Johnson had created a "legal circus," which "discredits the institutions we rely upon for a stable society.
"The rule of law must be followed, and I will not rest until it is," Landry tweeted. "Unfortunately, we will have to wait a little bit longer for that to happen."