By Brian Blackwell, Baptist Message staff writer
NEW ORLEANS, La. (LBM) – Despite a plague of weather disasters amid a worldwide pandemic, Louisiana Baptists continued to sow and reap in 2021.
According to the Annual Church Profile, Celebration Church (campuses in the New Orleans and Northshore areas) had the most baptisms of any Louisiana Baptist congregation in 2021 (317). Rounding out the top five were: Cypress Baptist Church, Benton (286); First Baptist Church, Covington (105); Bayou Church, Lafayette (95); and Journey Church, Pineville (93).
The database showed that churches of all sizes continued to reap spiritual harvests, and those listed below had the most baptisms, per capita (using average worship attendance), among congregations of similar size.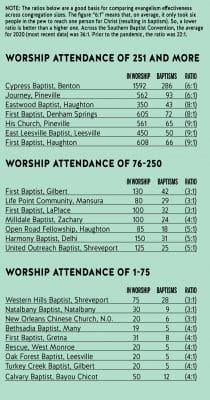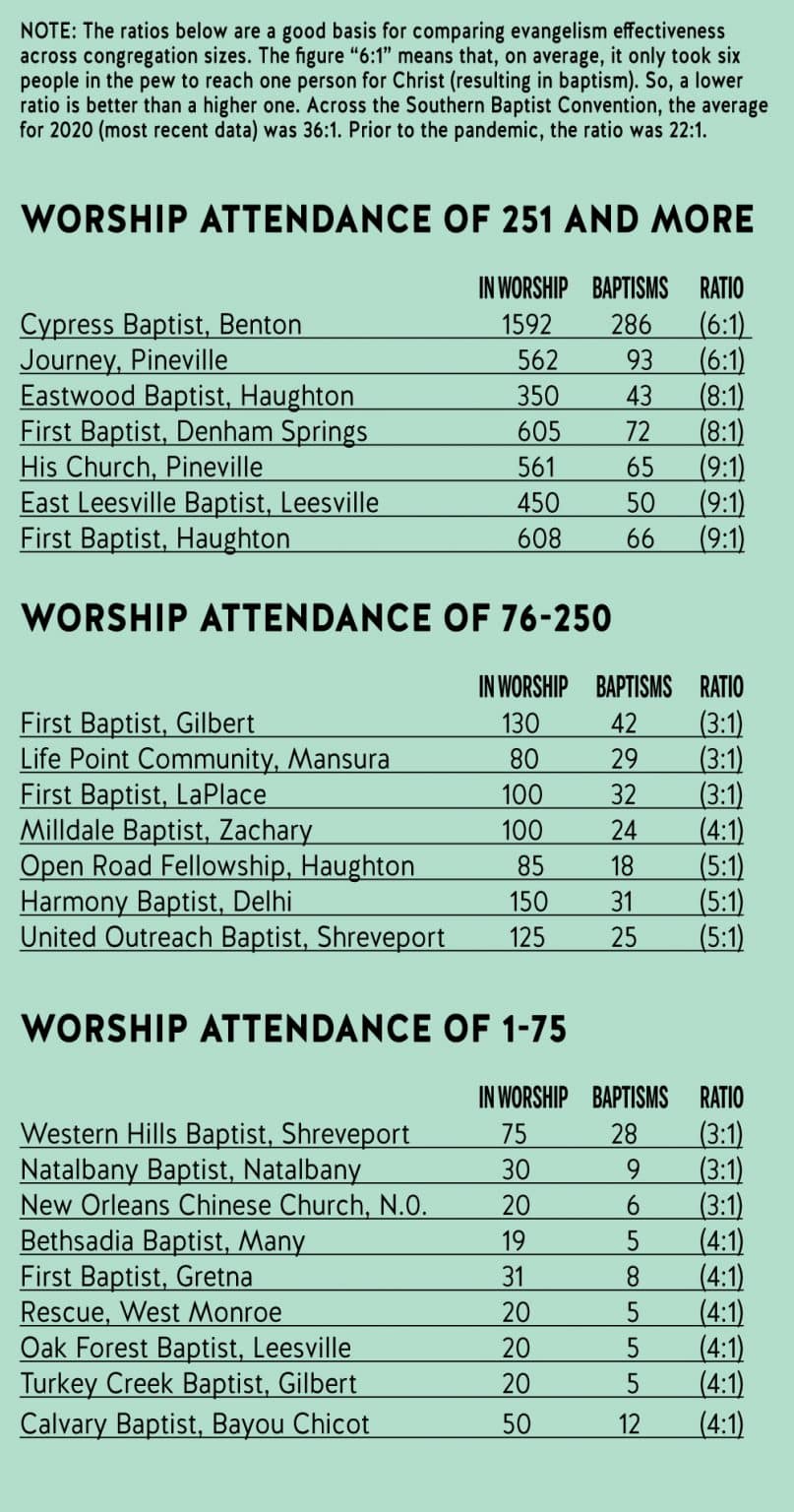 Louisiana Baptist Evangelism and Church Growth Team Director Keith Manuel said he is thankful for the many churches who baptize and have a zeal to shed the light of Christ in a world that faces uncertainty. "Easter is always one of the highest attended days of worship," Manuel told the Baptist Message. "This year — in light of the crises of health, inflation, and war — may be one of the great[1]est opportunities to touch hurting people with the Gospel. This generation is ripe for revival. People need peace in a world of turmoil. They need the peace of Jesus."
CELEBRATION
Changed lives have been the norm since 1989, when Pastor Dennis Watson and a congregation of 86 members committed to impact New Orleans for Christ. Attendance grew to an average of 1,800 until Hurricane Katrina made landfall in August 2005.
Afterward, participation dropped by 60 percent. In response, Watson marshaled the staff and members, reformatted the church's ministry strategy, and began working more closely with other churches for greater collective impact of communities within the city. The church has since dealt with other natural disasters, and each time members have responded to see a spiritual harvest.
"When people see and hear how Jesus has transformed our people's lives, circumstances and relationships, they want to learn more about whether and how the Lord can accomplish the same life-changing works in their lives, circumstances and relationships," Watson said.
Five of Celebration Church's eight campuses and hundreds of members' homes sustained significant damage from Hurricane Ida, Aug. 29, 2021, and yet the congregation recorded 317 baptisms for the year. In 2018, Celebration set a record for the congregation, baptizing 796 new believers (who completed new believer's training) from among 2,669 individuals who made professions of faith.
CYPRESS
Cypress Baptist's formula to baptize more than 286 new converts in 2021 (and 238 the year before) was simple.
"Everything we do is the Gospel," Pastor John Fream said. "We don't have a goal to baptize a certain number of people each year, but we just want to introduce as many people as we can to Jesus.
"People are desperately hurting for truth and the Gospel is what we've got," he continued. "We give them the Gospel."
When Fream became pastor in 2008, worship service averaged 402 attendees each week, and the congregation recorded 14 baptisms. Then Fream encouraged his members to share the Gospel more. The next year average attendance increased to 737 and the church saw 76 new believers baptized. Fream said congregants have continued to embrace their calling to reach Benton and beyond for Christ, even with the pandemic.
This year, the church has two main focuses: completion of a 60,000-sq.-ft. indoor recreational facility that will be used to host sporting events, and a three-week special outreach (that will feature former Heisman Trophy winner Tim Tebow on Palm Sunday, then a special emphasis on Easter, leading to a goal for "high attendance day" in Sunday school the following week).
"If we can get them coming three weeks in a row then we have a better chance of getting them to come regularly to Cypress," Fream said. "God has given us so many opportunities to minister and share the Gospel and we want the community to know we are here for them."
FIRST GILBERT
FBC Gilbert has seen a wave of baptisms in 2022. So far, Pastor Bubba Ezell has baptized 18 new converts, including eight on Feb. 21. If the pace continues, the congregation will eclipse last year's high mark of 42 (the church baptized 25 in 2020).
Ezell attributes the baptisms to his congregation's presence in the community that includes its "Amazing Grace" addiction ministry.
Ministering to addicts is highly personal for Ezell, who, after hitting rock bottom, found Christ in 2014 as a patient at a treatment facility in Logansport. Ezell said there are many in his community who are struggling with addictions and Christ is their only hope Since he became involved in ministering to addicts at treatment centers and jails across north Louisiana, Ezell has seen 2,000 people come to a relationship with Christ.
He estimates 150 of that group have joined FBC Gilbert and followed through with baptism since 2017.
"Everywhere Jesus went He ministered to the downtrodden and broken-hearted," Ezell said. "When we see people as 'an opportunity to share the Gospel' — and have the courage to do it and don't count the cost) — it's showing the love of God.
"The leper fell down and Jesus was willing to touch him," he continued. "Jesus' touch was enough to heal him then and Jesus' touch is still enough in people's lives. That's the heart of our ministry and church. When we move to them and are willing to touch them, we make a difference."
WESTERN HILLS BAPTIST
Pastor Joey Ketchum and his congregation are taking the Church to the streets of Shreveport. Through this outreach, hundreds have come to Christ, including 28 converts he baptized in 2021 (an increase from nine in 2020) at the multi-cultural Western Hills Baptist Church that averages 75 attendees for Sunday worship.
"My heart is one-to-one discipleship," Ketchum said. "I don't want to be the pastor who just talks from the podium, but I want the people in my community to see me living out the Gospel in the neighborhoods."
When he became pastor of Western Hills in 2006, the makeup of the congregation was mostly Anglo in a neighborhood that was largely African American. To bridge the gap, Ketchum said he asked God how he could best reach the community.
Nine years later, he began to make inroads with the neighborhood through relationships — that still are strong today — built at schools, ball fields and homes.
"My vision for 2022 is a Kingdom perspective," said Ketchum, who has baptized four new believers in 2022, with four more baptisms scheduled. "With all the violence happening in our city, and culture, the time calls not for a change, but a transformation."