By Will Hall, Message Editor
NEW ORLEANS — At the National Right to Life Convention Prayer Breakfast July 11, three members of the "first family" of Louisiana bared the sin, repentance and redemption of their experiences with abortion—in order to proclaim in agreement that all life is precious.
Oldest son Alan Robertson, his wife Lisa and his mother "Miss" Kay shared their individual stories of poor choices to have sex before marriage, and the real life consequences of those decisions, but also stressed how God's grace healed their hurts and reclaimed their lives.
It is a part of the Duck Dynasty story that has not made it into one of the episodes of the A&E blockbuster reality show, even though the family has been faithful in sharing this testimony around the country.
STRONG FOUNDATION
As a young girl in a little bitty town, Miss Kay said the best thing that happened to her was being raised by her grandmother.
"She was a Christian lady. She only went to school until she was 13 or 14, I think. And at 15, she married and moved out."
"So she had a limited education, but it didn't matter," she said. "She had a heart of gold and she loved God, and she loved the Bible."
Those foundations shaped her grandmother and in turn shaped her, Miss Kay said.
"She would read it to me. Also, we had so many discussions" about its applications, she added, "in her simple words."
This was important because both her parents drank, and her father died while she was still a young girl. Importantly, she said, her grandmother taught her "one man and one wife for one life."
MORAL COMPROMISE & CONVICTION
Through these many life lessons, Miss Kay learned that sin was sin.
But when she met her "pioneer man" in Phil Robertson, and "knew" he was the man she was going to marry, she convinced herself that pledging to God that he was her husband before the "first time," even though they were not married, was sufficient enough and eventually she became pregnant.
"When I had to call and tell [Phil], [Louisiana] Tech had him in a summer job in Nebraska. My thoughts were 'What if he didn't want to get married? '"
"But what I knew was, from the time Alan was in my stomach, it was a life, it was a baby," she said.
She said everyone asks now "What if Phil had said no? What if, what if, what if?"
"It didn't matter 'What if?' she said. "I knew that was my baby. I knew that he was me and he was Phil, and I loved him. She resolved to "never, never take that baby away, 'cause he was ours."
BAD BEGINNING, GREAT FINISH
Alan Robertson served White's Ferry Road Church of Christ in West Monroe for 22 years before joining the Duck Dynasty cast two years ago, but he expressed regret for leading his "good girl" wife "down some bad paths" as a teenager.
"My lifestyle had gotten to the point of being a "prodigal son" right in my hometown. Dad had to sit me down, and he said, 'Al, you can't live this way and stay here.'"
In high school Alan had taken notice of Lisa, who had become "quite the looker. My life was so bad and I introduced her to such a battle," he said. "She was a good girl … before she ran into me."
"[Dad] basically said I had to change or leave, as he was told by my mom" (Miss Kay's tough stand, shortly after she was born again, eventually led her husband Phil to a crisis of belief at which point he humbled himself to God).
"I decided to leave."
After spending a troubled year in and around New Orleans, a police officer in Kenner, where Alan almost lost his life on a Sunday morning, "cared enough about his faith to share with me that day that I needed to do the right thing.
"I'm still grateful to that officer and I can't wait to meet him one day in Heaven," he said, especially to finally learn his name.
WAYWARD STEPS TO THE RIGHT PATH
After that encounter, Alan returned home and found his mom and dad waiting with open arms … and Lisa dating another boy pretty seriously, just as she was about to graduate high school.
She was ready to renew her relationship with Alan. But, a lot had happened since she last saw him.
"I was a 16 year old and pregnant. I had no one to talk to. I was an unwed mother. And if there was a [pregnancy] center somewhere, I really was not familiar with it," Lisa said.
"So, I really did not know what to do.
"I turned to the people that I thought knew best. No blame whatsoever," she offered, but, "I turned to my parents, and, of course, they did not think that it was a good idea for me to have a child at 16."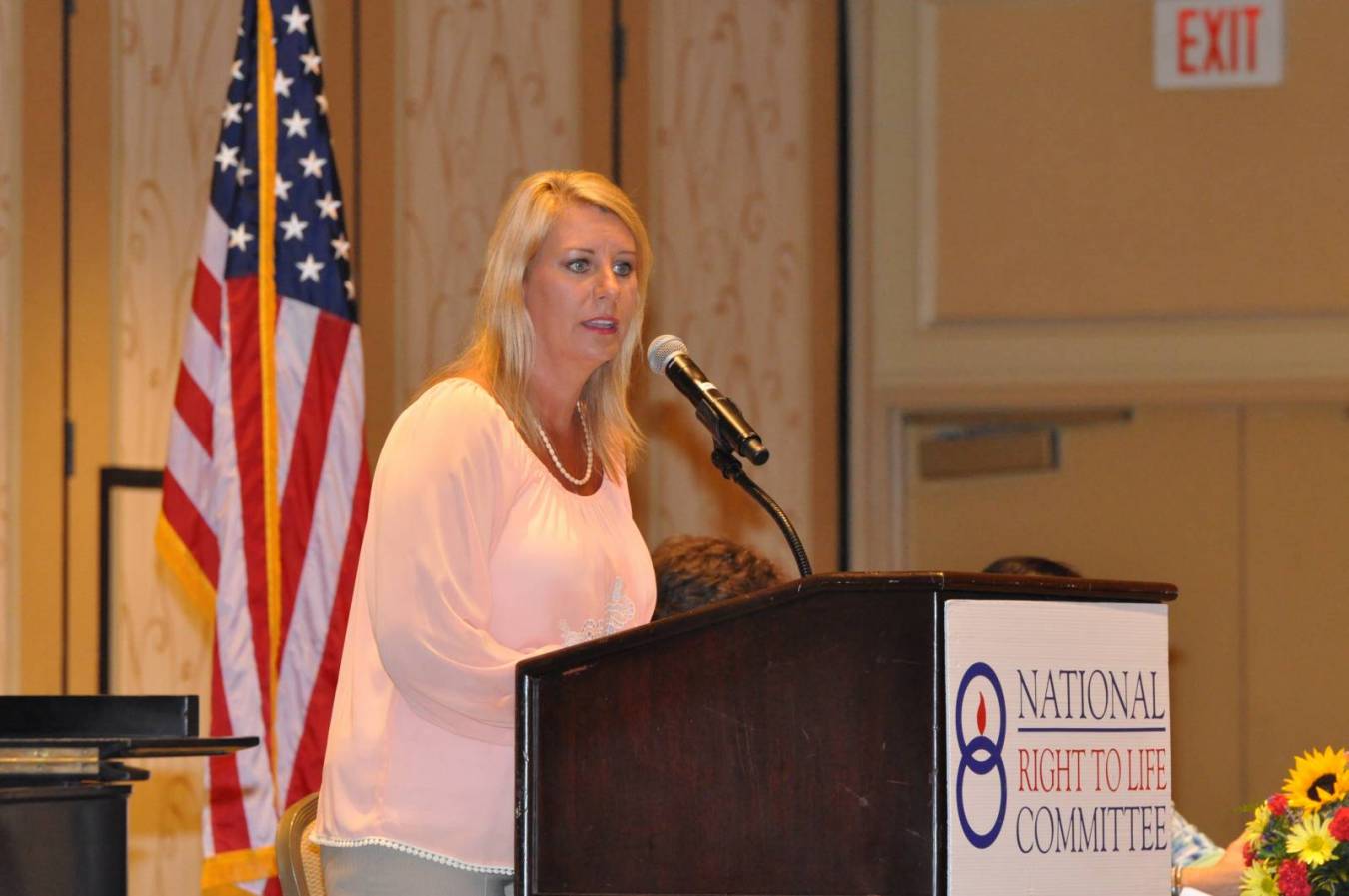 She said her boyfriend at the time was in love with her and really wanted to keep the baby.
"But in the back of my mind, at 16, I had the idea of the guy that I had lost my virginity to at 15 — who was in New Orleans having a heyday — and I thought 'You know. If I have this baby, when he comes back, I'm going to be the last person that he looks up and says, "Hey, how 'bout a date,"'" she said.
"So, really at 16, in my feeble little mind — I had no church family. You know, just think about it: You're 16 and you're sleeping around. So, you're probably really not into going to church and being in a youth group. – I really didn't have anybody to talk to. So, I was urged to have an abortion, and I did."
She said no one was at fault, except herself, and she has awakened almost every day for 30 years, plus, "and thought of that decision."
Citing Psalm 139, she said she realizes now no one has the right to take a life except God.
"I'm grateful Miss Kay chose life," she said, "because I have a wonderful husband.
"I am very grateful my own mother chose life."
But she said obedience to God "is the most important reason for us to choose life" and we should trust in His plan for each and every life.
"We could have a cure for cancer. We could have … world peace," she offered.
"We have no idea what we have lost in aborting our babies."
BURDENED BUT HOPEFUL
Closing out the Prayer Breakfast, Alan shared that "the life issue to our family is very important."
One good outcome from the calamitous decisions they have made, he said, is that he and his wife have produced resources for young women at pregnancy centers "on both sides of this" issue — a cautionary word to girls to practice abstinence before marriage, and, to those who have gotten pregnant and even had an abortion, "a hope for redemption … to be something different."
"I don't know about you, but these days I feel sometimes like Elijah," he offered, as a preface to ending his remarks, "sitting under a broom tree wondering why God just doesn't take me on, because it seems like the entire nation has bowed their knee to Baal with some of the decisions that are being made."
But, he reminded the crowd, God told Elijah He had those out there waiting to stand up and be counted.
"Elijah was ready to give up, and sometimes I am, too," he said. "But God told Elijah in a gentle whisper, 'I've got work for you to do.'"
"So keep on doing what you are doing, and, commit to this verse in John 10:
"Therefore Jesus said again, 'Very truly I say to you, I am the Gate for the sheep. Whoever enters through me will be saved. The thief comes only to steal, and kill and destroy. But I have come that they may have life and have it to the full.'"
MAKING A LIFE COMMITMENT
U.S. Sen. David Vitter (R-La.) gave opening remarks for the Prayer Breakfast, saying in part he was thankful to those in attendance for their commitment and passion to the pro-life cause.
"We share that in Louisiana. By almost any metric, I'm very proud to say, Louisiana is perhaps the most pro-life state and culture in the nation," he said. "And we are very, very proud of that and we're going to keep it that way, absolutely."
"Everyone knows we have a 'joie de vivre' [French for joy of life], but to have a 'joie de vivre' you have to have a respect for life first — and we do and we'll continue to do that.
"We'll continue to work with you to expand that respect for life and 'joie de vivre' all through our culture."
Vitter has served in the U.S. Senate since 2005, but in 2014 announced his candidacy for governor of Louisiana to replace Bobby Jindal, who will vacate the top state office upon completing his second term in January 2016. Jindal has entered the 2016 presidential race.
The Robertsons' remarks and Sen. Vitter's comments may be heard in full at the National Right to Life Convention website.