By Will Hall, Message Editor
BATON ROUGE (LBM) — Ed Orgeron's professional life, particularly his coaching résumé, is pretty well known around the country, but not much has been publicized about his religious life.
However, during an informal interview conducted by Gary Borgstede, executive pastor and chief administrative officer of the Church of the King in Mandeville, LSU's head football coach, "Coach O" and his wife, Kelly, shared glimpses about their walk of faith as they traveled along his demanding career path to become the head football coach at LSU.
The Orgerons were speaking April 11 at the 2017 Louisiana Pastors' Legislative Briefing, held in the Old State Capitol in Baton Rouge and co-sponsored by the Louisiana Family Forum and Louisiana Baptists Office of Public Policy.
Orgeron elicited robust laughter when asked whether he had a "coach" in life, responding, "No question. Number one, my wife … and Number two, Pastor Jacob and Pastor Steve."
Jacob Aranza is pastor of the multisite Our Savior's Church, based in Lafayette, and once served as chaplain for the New Orleans Saints, and, Steve Robinson is pastor of the multisite Church of the King, based in Mandeville.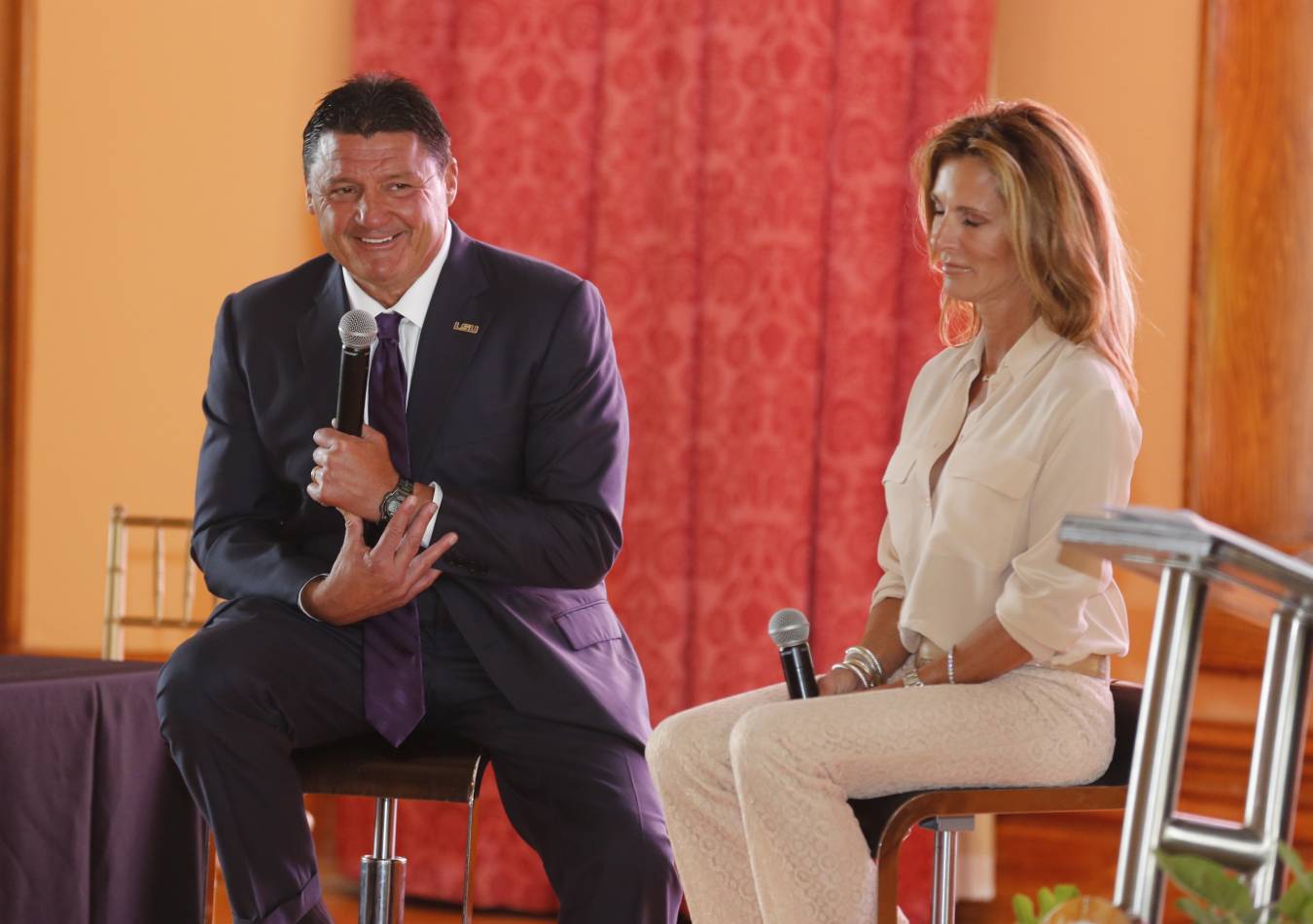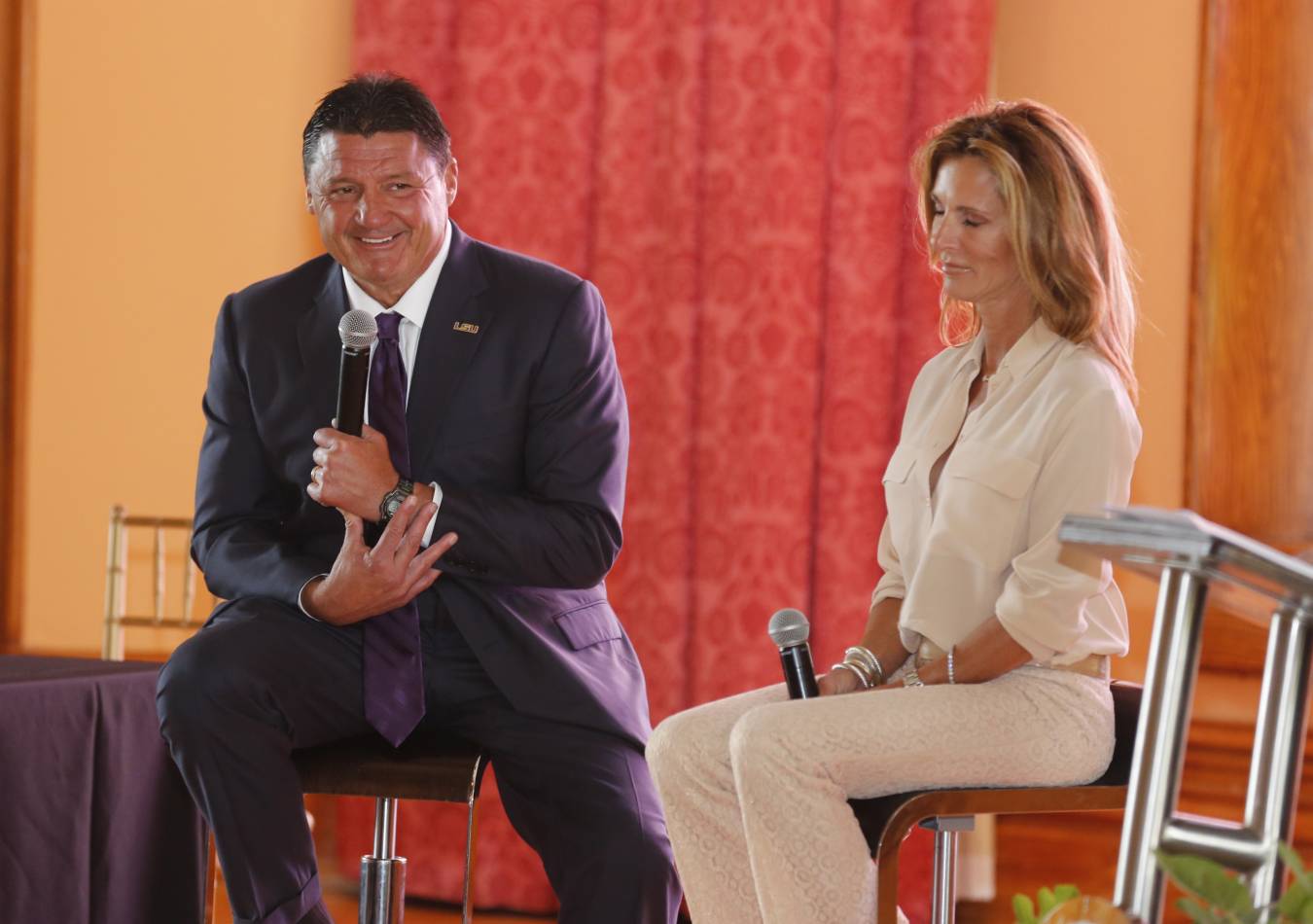 FAITH IN THE FIRE
But, while Orgeron made his statement somewhat to get a laugh, he made it clear during his exchanges with Borgstede that his wife was a strong spiritual influence on him and their family.
Using a mixture of humor and serious reflections, Orgeron described her strength of faith in the context of his failed bid to get the USC Trojan head coaching job in 2013 and his subsequent hiring by the LSU Tigers in 2016.
He had led the USC football team to a 6-2 record after taking over mid-season for the fired Lane Kiffin, but learned the school had chosen someone else.
"I looked at [Kelly] and said, 'Besides the day I buried my father, this is the worst day of my life," he said. "She goes, 'No, it's not.'"
"What are you talking about?" Orgeron recalled was his response. "She goes, 'God has a better plan.' And I said, 'Whew! It better be good.'"
Kelly said the promise of a better plan helped the family during Coach O's time of transition back to Mandeville, where he got to watch his sons play ball, and they started attending Church of the King.
"God definitely has been good to our family," she said. "We've had trying times just like any family does … but we have God as our foundation."
She said she remained firm in her faith that God had a better plan even when her husband had been mentioned as the next head coach for the Tigers, but other names kept coming up.
In the last days of LSU's coaching search, one son texted several times with concerns before she finally told him, "Son, when God has a plan, nobody can change it."
"Your father is going to be the next LSU head coach," she remembered telling him, and, that was her counsel to Coach O the night before he learned he had been hired by LSU.
"I got on my knees and said my prayers," Coach O recounted. "Kelly looked up and asked, 'Why do you look so sad?'"
"I said, 'It don't look good.' But she says, 'It's O.K.' I said, have you looked at the TV, woman?" he told the crowd with a laugh.
"Here's what she said. She goes, 'You're going to wake up tomorrow, and you're going to be the next head coach at LSU.'"
When he received a 5:30 a.m. call from the LSU athletic director the next morning, he said Kelly looked at him and beamed, "I told you so."
FROM START TO FINISH
Orgeron opened the time together by expressing profound gratitude to the more than 200 pastors who attended the legislative briefing.
"Thank you all for all the things that you do in the game of life, which is much more important than football," he shared. "Thank you for all you do for the state of Louisiana."
But to close the time with the pastors, he shared a request.
"Remember, you guys are connected with everybody in Louisiana," he said. "So if you've got a big guy, about 6-3, 300, make sure you pray extra hard that he goes to LSU!"
The LSU Tigers open the 2017 season with a first-time matchup against Brigham Young University in Houston's NRG Stadium, Sept. 2. The Tigers' schedule is arguably one of the toughest in the nation, with the final seven games all against SEC opponents.