By Brian Blackwell, Message Staff Writer
Volunteers are pouring into Louisiana by the droves.
Some have given up their spring break while others have taken time off work to offer a helping hand and share Christ's love with thousands of flood victims.
Since historic storms dumped record amounts of rainfall over the state causing widespread flooding in early March, Southern Baptist Disaster Relief teams from 16 states have answered the call for help and those volunteers have been working tirelessly to help victims get back on their feet.
And to compound matters, another round of severe weather is expected beginning late Wednesday evening.
The National Weather Service (NWS) indicates every region of the state is under a slight to marginal risk for severe weather through Thursday.
According to the NWS, large hail, damaging wind gusts and isolated tornadoes are possible during this event.  Forecasters say up to four inches of rain could fall in certain areas causing flash flood concerns across the state.
With more than 13,000 homes already flooded, it is not the type of news that rain-weary Louisianans want to hear.
BY THE NUMBERS
After the first incident command center was established on March 14, SBDR volunteers have served 34,444 meals, assessed 818 homes and completed 521 jobs. They've also washed a mountain of clothes, provided hot showers and down mud-out work.
They also have distributed 480 Bibles and presented the gospel 230 times, with nine of those presentations resulting in people accepting Christ as their personal Lord and Savior.
Wes Johnson, director of the incident command center in Monroe since March 17, said seeing others accept Christ makes the long hours spent on the field worth it.
"Those teams are just doing the service they feel the Lord Jesus Christ wants them to do and is allowing them to do," said Johnson, a member of the Oklahoma Baptist Disaster Relief team. "That is help their fellow man kind get back to some semblance of hope and restoration in their homes.
"It's evident these victims are just in a state of despair," said Johnson. "When you assist them in cleaning up their home and removing debris, you see an uplifting take place but at the same time know the road ahead of them is going to be a long, hard one. It's just a difficult thing to overcome and we do the best we can to help."
WHAT AN EXAMPLE
Among those serving on the field this week are youth groups and volunteers from three Louisiana Baptist Collegiate Ministries.
First Baptist Church in Franklinton's youth group is spending its spring break by serving as a mud-out team in the area.
"I would like to challenge our sister churches to gather their young people and come this week while kids are on spring break," said Pastor Paul Watts through Facebook. "There is so much to do and teenagers can be a big help with a little supervision."
Students from McNeese State University, Northwestern State University and Southeastern Louisiana University have all given up their spring breaks this week and are serving as members of disaster relief teams.
Twenty-five students from McNeese State University's BCM are working in Vinton. McNeese BCM Director Keith Cating said his students had planned on taking a mission trip to San Marcos, Texas, but opted to stay close to home after the flooding hit the area.
At one location today, the students were able to share Christ's love to a man who wasn't a believer. Cating said the man's wife, who is a Christian, was hoping the students' presence would provide an open door for him to accept Jesus as his personal Lord and Savior.
"The woman said she couldn't believe our students would do this for spring break," Cating said. "She told the group her husband doesn't know the Lord but is seeing Him through the team's actions this week.
"To see them help other people makes my job rewarding," Cating continued. "These students are the future of the church. Experiences like this help them understand what the Gospel is about."
Timothy Gothrup, a member of the McNeese BCM, called walking into a mold-infested home a sobering feeling.
"Monday I watched as the home owner played 'Amazing Grace' on her piano which was now in the middle of a room with no walls," he said. "Now that struck a nerve. The Bible teaches Christ followers to love their neighbors, and that's exactly what we are living out."
Some members of the University of Louisiana at Monroe BCM spent their Monday helping to prepare 5,000 meals for Disaster Relief workers and those affected the flooding.
For their part, 30 students from Southeastern Louisiana University's BCM are serving in Hammond, Loranger and Ponchatoula. Their original plans were to take a mission trip to Utah and work with a church plant there, but in January they felt led to minister near their campus. After many homes in their area were flooded in mid-March, students' mission became clear.
Matt Middlecamp, the campus director of the BCM there, was at a loss for words as he saw his students sacrificing comfort at a beach for a week of mudding out homes in their area.
"I was shocked our students in January wanted to help here in the local areas," Middlecamp said. "It showed me their desire to see their community come to know the Lord and for us to show what it means to be hands and feet of Christ.
"I am so proud they are willing to give up their time to do dirty, gross work instead of going to the beach," he continued. "They are willing to sacrifice their time and energy to do what they feel God has called them do, which is to serve others."
Meanwhile, 15 students from Northwestern State University's BCM are serving on mud-out teams in Natchitoches this week. Bill Collins, director of Northwestern State's BCM, stressed the work is far from over and his students likely will serve on disaster relief projects far beyond this week.
"Students are putting their faith in action," Collins said. "It's intangible to see them assist those in need. Once this week is over, we will figure out what afternoons we will take to work on homes and will attempt to mobilize other student organizations to work alongside us."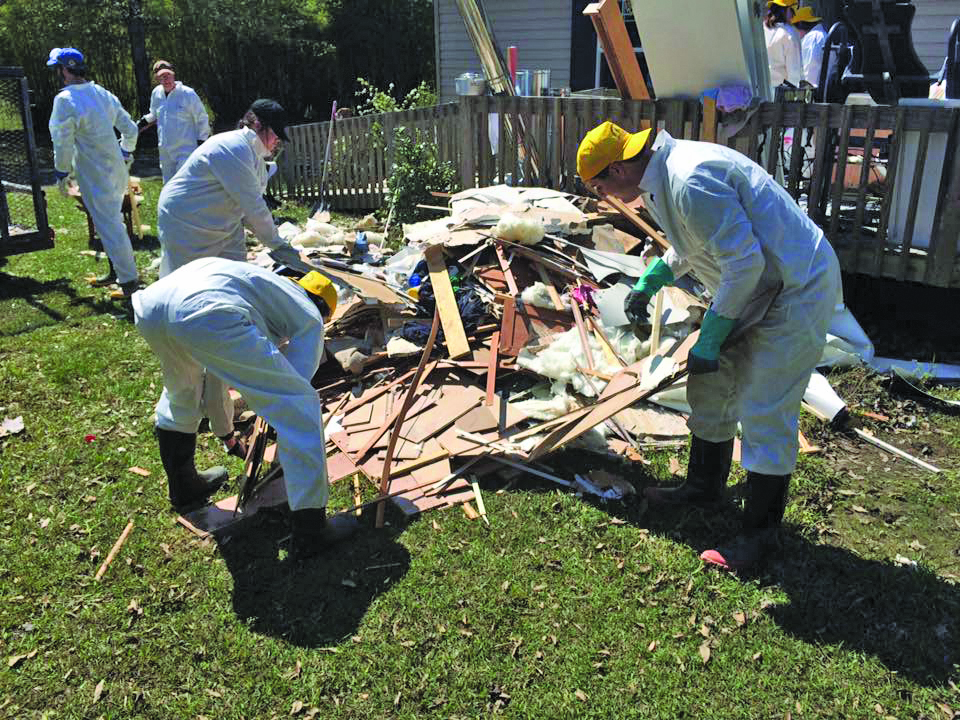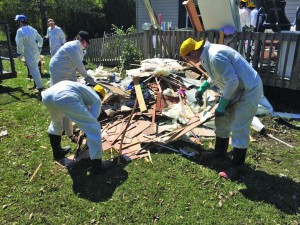 Like Collins, Johnson said the high school and college students have provided a powerful witness through their willingness to give up a week of free time to help flood victims.
"It's a tremendous statement they are making that they care for their fellow man and assist in any way, such as this," Johnson said. "The youth provides the energy and strength that some of us old timers who run out of gas. It's heart-warming to see this and they are doing a tremendous job."
With just three weeks into the disaster relief efforts for flooding victims, Johnson reiterates the importance of even more DR-trained volunteers. He encourages anyone wanting to serve to contact the state disaster relief office for more information.
"We know that in the Monroe area where I am incident command center director, there are 1,700 homes affected," he said. "Throughout the state, several more thousand homes have been flooded out. And it normally takes each team a day to finish one job. So you can just do the math and see how long it would take with 13,000 across the state. This will be a long term effort to recover from this flood."
For more information on how to serve on a disaster relief team or give to disaster relief efforts, visit the Louisiana Baptist Disaster Relief website.